Contrary to what most people think, cannabis is not legal in the Netherlands, it is only tolerated to buy cannabis in coffee shops (maximum 5 grams per person).
The netherlands was once one of the first countries to tolerate cannabis use, today, where more and more countries are legalizing cannabis use, either for medicinal use only or for recreational use, the netherlands is tightening the rules.
Because soft drugs are less harmful to health than hard drugs, other rules sometimes apply. Coffee shops can sell weed and hashish under strict conditions. They are not prosecuted for this. This is the essence of the tolerance policy.
The Public Prosecution Service also does not prosecute people if they have small quantities of soft drugs. It is about this:
a maximum of 5 grams of cannabis (weed, hash);
maximum 5 hemp plants.
For the sale of weed and hashish, coffee shops must adhere to rules (the tolerance criteria). A coffee shop must meet the following conditions:
No more than 5 grams of soft drugs may be sold per person per day.
Hard drugs may not be sold.
No soft drugs may be sold to minors.
Minors may not be admitted to a coffee shop.
No alcohol may be served.
Drugs and coffee shops may not be advertised.
No nuisance to the environment must be caused.
The trading stock may not be more than 500 grams.
No access for and sale to persons other than residents of the Netherlands.
The sale of soft drugs remains punishable. Do coffee shop owners not comply with the conditions? Then they can be prosecuted and the mayor can close the coffee shop (temporarily). To prevent nuisance, municipalities can set additional requirements for a coffee shop. For example, adjusted opening times or a greater distance to schools.
The government wants to combat nuisance and crime related to coffee shops and drug trafficking. That is why only residents of the Netherlands are allowed to go to a coffee shop and buy cannabis there. A resident is someone who has his (residential) address in a Dutch municipality and is therefore registered there. The coffee shop owner must check that he only admits residents of the Netherlands aged 18 and over. For this he must ask for a valid proof of identity or residence permit and an extract from the Personal Records Database (BRP).
Source: official government website
One of the most idiotic laws is the 500 meter policy, every coffee shop within a 500 meter radius of a school had to be closed. As if students are not going to use cannabis or less cannabis and cannot walk or cycle 600 meters! You'd say crazily, but this is the new Dutch policy to close as many coffee shops as possible.
A coffee shop may not have more than 500 grams of cannabis in stock. An unreal number, considering that most coffee shops offer around 10 types of weed and / or hashish and that they can sell 5 grams per customer. The transport of cannabis is forbidden, the person who has to supply the coffee shop is therefore punishable and runs the risk of a prison sentence. A coffee shop needs to be supplied several times a day, especially large coffee shops in Amsterdam that receive hundreds of customers a day. An unworkable situation.
Keeping 5 cannabis plants for your own use in your home or garden has been tolerated, in practice they are simply removed by the police. Even when it concerns elderly people who grow a cannabis plant in their garden for medicinal use to soften their Parkinson's or other ailments.
(VIDEO) In addition to their vegetable garden, Jan (73) and Jannie (68) van Raalte have two weed plants in their garden in Hasselt. Jan uses the plant to make weed oil so that Jannie has fewer skin complaints, but due to an anonymous report the police threaten to remove the plants on Saturday.
"That this can easily be removed in the Netherlands," says Jan van Raalte a few times in succession. Immediately afterwards the phone rings. A person unknown to them offers to move the plants to his garden. ,, That is not possible, then the plant can also be thrown away. But this does say that everyone wants to help us and sympathize with us. "
That is disastrous for Jannie. She has been using the oil from the plants for several years to suppress psoriasis skin disease. ,, I have had this for 45 years and have often been to the doctor. Nothing helps except this. It is an emergency handle. Otherwise I have a lot of itching, even bleeding. It never goes away completely, but I now have less itch. We still have a stock and I expect more itching when it is finished. The plants do not stink at all and the neighbors all indicate that they have no problems with it. "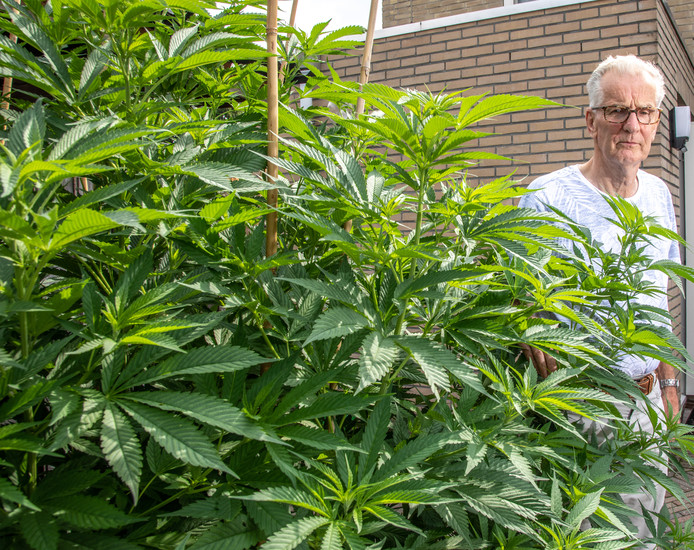 Forbidden
Normal cannabis oil does not help with Jannie. ,, We can buy cannabis oil, but that does not help me and it is expensive. Weed oil is also chemically processed, "says Jannie. In the Netherlands it is forbidden to have weed plants. "There is a tolerance policy whereby five or fewer plants are removed, but there is no question of criminal prosecution," says police spokesman Henk Kremer.
Jan and Jannie spoke to Zwartewaterland Mayor Eddy Bilder. "I can easily relate to their motives for having these plants," says Bilder. ,, I am not happy with what is going on. This is a matter for the police and I cannot do anything for them. In the Netherlands we have a difficult policy on weed. "
Jan has little hope that he can still keep the plants to help his wife. ,, I think I can only harvest in four weeks. I already went to the police today and said that we are gone Saturday afternoon. We will be home after 5 pm and then they can pick it up. It is my honor to remove the plants myself for this. We must cherish such plants. I think that thousands of people have these plants for the same purpose. It must be legal. We could buy this at a coffee shop. That has been made illegal. That is possible, but we are not going to do that, are we? ", Jan says, looking at Jannie.
Not for the first time
It is not the first time that a fuss has arisen in the region concerning the cultivation of weed plants for own use. For example, a police officer in Harderwijk got the full layer a year ago when he posted the following photo on social media of cleaning up weed plants on a balcony. (picture on top of this page)
Within two days there were almost a thousand responses to the message, most of them negative. The promotion was described as "nonsense", "pathetic" and "crazy for words". The police were greatly shocked by the harsh responses and the police officer was even forced to delete his account.
And indeed, a few days after this article, the plants were actually removed!
If you think that this article about this seizure is unique, then you are mistaken.
There are even more apparent cases where elderly people are evicted from their homes because they grow cannabis indoors in a tent.
After discovery, an eviction procedure is started immediately by the housing association and the residents are evicted from their house!
What do you think of this when you read this?
Leave a comment and share this article with your friends, thanks!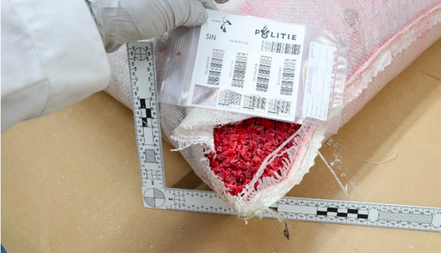 7-6-2019
The police arrested the 50-year-old coffeeshop holder, Ab S. in his home in Landsmeer on Tuesday morning. He is suspected of the ingenious smuggling of cocaine. The man threw a loaded firearm into his backyard shortly before his arrest. According to well-established sources from Crimesite, S. is a coffee shop holder.
-> Read More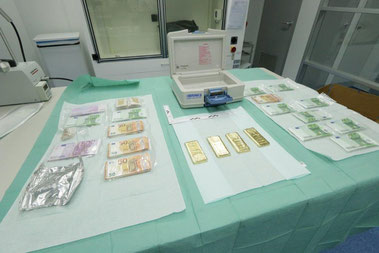 11-5-2019
The dutch police have rolled up the largest coffee shop on the dark web. At DutchMagic, customers ordered soft drugs for millions of euros per year.
During house searches, the police seized firearms, vehicles and for half a million euros in money and gold bars.
-> Read More
---